Race 1 Elwood
Sunday 26th November 2023
E-Guides & Wave Starts Available Below
Race Details
Date: Sunday 26th November 2023
Location: Elwood Park, Elwood
Registrations:
$10 Late fee applies from 12pm on Wednesday 22nd November.
Registrations Close 4pm on Friday 24th November (unless sold out prior).
NO EVENT DAY REGISTRATIONS.
Entered? Wondering what's next?
Race Day Information and Wave Starts guide will be emailed to participants Wednesday 22nd November.
eTickets (used for kit collection)
Emailed to participants at 5pm on Thursday 23rd November. Bring this on Saturday 25th November or on Race Day, Sunday 26th November when collecting your kit.
Entry Pricing
| Event | Individual | Team |
| --- | --- | --- |
| Sprint (500m/20km/5km) | $104.00 | $149.00 |
| Fun Tri (150m/7km/1.2km) | $73.00 | $95.00 |
| Tri Kids (100m/3km/500m) | $38.00 | N/A |
Fees are inclusive of GST and Booking Fees.
Please Note: Prices increase by $10.00 for all distances on Wednesday 22nd November at 12:00pm.
Insurance Coverage
Triathlon Australia (TA) membership is not included in these prices. It is mandatory to have a Triathlon Australia (TA) membership to participate in this event and if you are not a TA member, one day memberships are available in our registration system at the following costs. Tri Kids: $0, Fun-Tri: $4.50, Sprint Distance: $12.5 & Olympic Distance: $22.50.
Interactive Course Maps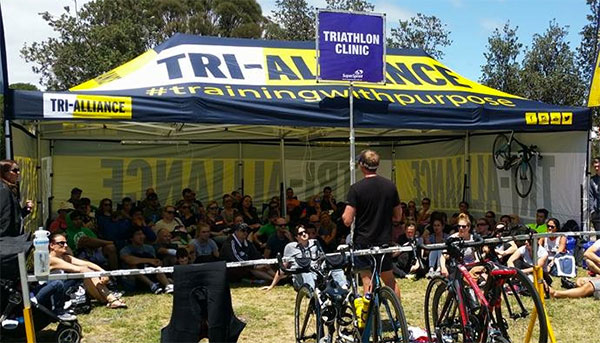 Free Tips and Tricks Race 1
Saturday 25th November 12.30 pm
Each Saturday before every 2XU Triathlon event our great partners at Tri-Alliance hold a FREE Tips & Tricks Clinic in the event village between 12.30pm and 2.00pm. The clinic covers all areas of triathlon racing to ensure you have a smooth, hassle free and enjoyable race. Registrations are required so click the button below to lock yourself in as places are limited. Also check out the handy Race Day Check list below so you're ready for the day.
Key Times
Sprint Series


Minimum age 15

Fun Tri

Minimum Age 12

Tri Kids

Ages 7 to 11

Distance
500m/20km/5km
150m/7km/1.2km
100m/3km/500m
Saturday Event Kit Collection
12:00pm – 2:00pm
12:00pm – 2:00pm
12:00pm – 2:00pm
Tri- Alliance Tips & Tricks*
12:30pm – 1:30pm
12:30pm – 1:30pm
N/A
Sunday Event Kit Collection
5:30am – 8:00am
5:30am – 7:00am
5:30am – 6:30am
Bike Check In
6:30am – 8:15am
5:45am – 7:10am
5:45am – 6:40am
Pre-Race Brief
8:25am at swim start
7:10am at swim start
6:40am at bike compound
Start Time
8:40am
7:25am
7:00am
Presentations Approx
11:00am
8:25am
At finish line
*Saturday Prior Bookings essential, please visit www.tri-alliance.com.au
Drafting: Draft Legal Categories are Elite M/F 15 YOA +, Junior Elite M/F 15-18 YOA & Youth M/F 13-14 YOA Races 1-5 Sprint.
Race 6 Olympic is the Draft legal Race for Elite M/F 15 YOA +, Junior Elite M/F 15-18 YOA (Youth remains Sprint R6 but is not draft legal).
Road Closures
Sunday 26th November 2023
From – St. Kilda Street, Elwood to Kerferd Rd, Albert Park from 6.00am to 11:00am
Beach Road – Beaconsfield Parade, Jacka Boulevard, Marine Parade & Ormond Esplanade
Managed Crossings of Course
Beach Road – Cowderoy St /Pier Road to access Royal Melbourne Yacht Squadron & St Kilda Sea Baths
Beach Road – Dickens St to access St Kilda Marina
2XU Triathlon Series
VENUE: Elwood Reserve, Elwood
DATE: Sunday 26th November 2023
START TIME: 7.00am (Road Closed from 6am)
FINISH TIME: 11:00am (approximately)
As in past years, we will have a resident lane to allow you to get out of your property by turning left into Beaconsfield Parade / Jacka Boulevard / Marine Parade / Ormond Esplanade and left at the next side street. When returning to your property – please use the side street on the city side of your property to turn left into Beaconsfield Parade / Jacka Boulevard / Marine Parade / Ormond Esplanade and left into your property. Please follow the directions of the marshals to ensure the safety of all concerned.
We appreciate your patience and we assure you that the roads will be reopened to traffic as quickly as possible to minimise any inconvenience.
Should you have any queries, please feel free to contact our office during business hours or on the event weekend on 0456 479 606 .
We apologise for any inconvenience we may cause and look forward to your continued support of our event.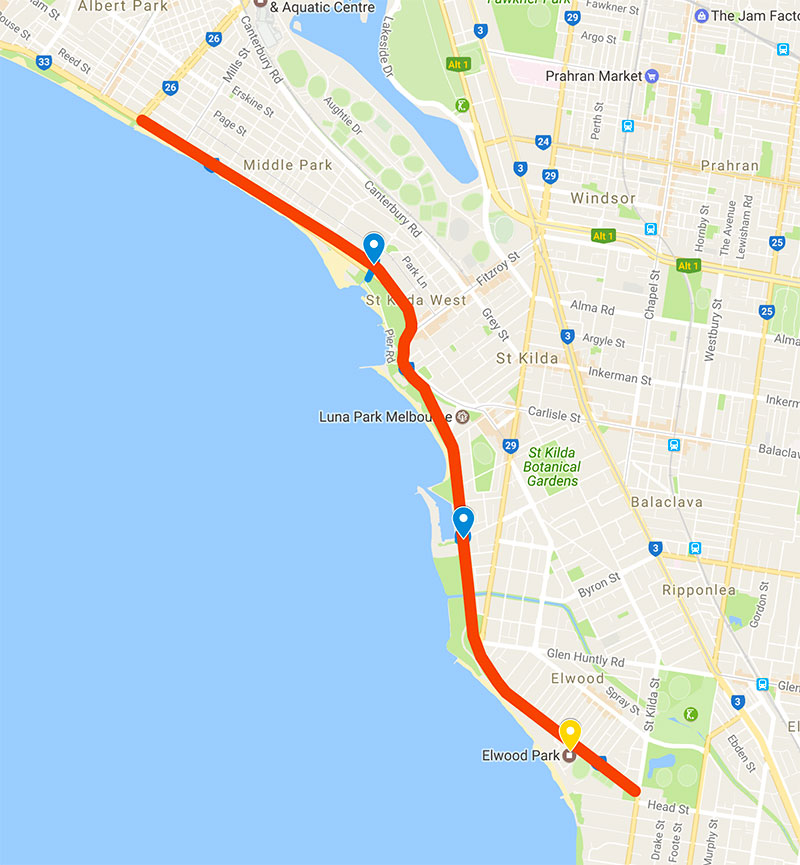 Interested in Volunteering? Click here to email us.